Media //
Publications
"Abandoned Treasures: Forts in Mumbai"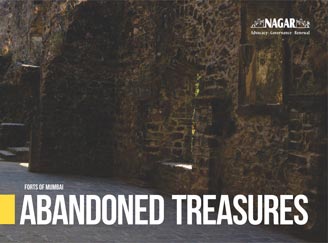 An onsite physical survey of the Forts of Mumbai was done by NAGAR to establish their condition as well as that of their immediate surroundings.
During the Portuguese reign, Mumbai or Bombaim ("Good Bay" as they called it) had eleven forts! Unfortunately only eight exist today. All of them are "protected monuments". NAGAR has published this survey in a book – "Forts of Mumbai – Abandoned Treasures" with the hope that knowledge about these Forts will help preserve them.
The consolidation and preservation of these forts are under the jurisdiction of two government authorities – The Archaeological Survey of India (ASI) at the Central level and The Directorate of Archaeology and Museums at the State level. This book gives a bird's eye view of the status of these historical monuments of our city.
This book is available at NAGAR office for Rs. 450/-
Office timings: Mon. - Fri. 10.00 a.m. to 6.00 p.m.
"Breathing Space: A Fact-file of 600 Reserved Public Open Spaces in Greater Mumbai"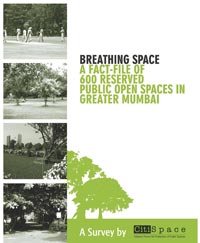 ONE-HUNDREDTH OF WHAT WE NEED
Through this book, CitiSpace attempts to make information available to all, which has not been easily accessible. It offers a survey, conducted by two qualified architects assisted by a team of 44 architecture students and surveyors, of 600 Reserved Open Spaces shown in the Development Plan (DP) of Greater Mumbai. This information will empower citizens to resist the hiding and disguising of facts, which assist builder lobbies and those in their pay. It will help civil society to engage constructively with the MCGM to obey its own norms. It is a defence against land grab in our over-built city.
CitiSpace publishes this fact file in the belief that information is power. It will also help the authorities in preparing the new DP (2014-2034). CitiSpace hopes that these facts and figures will assist citizens in their constant battle to keep open spaces open and free of encroachment and to challenge misguided politicians and bureaucrats. Most importantly, this book can act as a channel for dialogue among citizens and between them and CitiSpace, with its knowledge base, network and advocacy experience.
SECTION I
Of the 600 surveys of Reserved Open Spaces in Greater Mumbai carried in this book, 23 of them are included in Section I. These are a sampling of each of the 24 Municipal Wards of Greater Mumbai and are carried in near complete detail that includes the survey proforma, location of the plot in the DP Plan, a layout sketch and photographs. The plots have been selected to represent each ward giving a general idea of the varied issues related to such open spaces – including usurping the plot for clubs, encroachments by hutments, lack of maintenance, apathy on the part of the MCGM towards their development and other such misuse.
SECTION II
This section carries information on the 577 surveys of the 24 Municipal Wards of Greater Mumbai. They have been divided into the Island City, the Western Suburbs and the Eastern Suburbs as per the Administrative division of the Municipal Corporation of Greater Mumbai. Each ward in this section starts with a representation of the Development Proposal Map for the ward in which each of the surveys carried in the book is marked with a unique number that coincides with its proforma serial number and tabulation number. The plots have been colour coded according to their existing status, whether with green cover, maidans, water bodies, paved or encroached. In addition, the overall findings for each ward have been analyzed and represented in the form of pie charts for pictorial representation of existing conditions.
This book is available at NAGAR office for Rs. 350/-
Office timings: Mon. - Fri. 10.00 a.m. to 6.00 p.m.