Media //
SWM Report
People-Public-Private partnership Model
View Model
|
View Letter to the PM
NAGAR has envisioned a PEOPLE Public Private Partnership Model for Solid Waste Management (SWM) in the Prime Minister's welcome campaign – Swachh Bharat Abhiyan (Clean India Movement). In order to make this Model workable NAGAR studied various aspects of Solid Waste Management – analyzing policies and laws of the Government (i.e. the Central & the State laws); research & analysis of ground level situation in Mumbai; networking with stakeholders – Citizens, Government Authorities, NGOs and Agencies working in the field of waste processing & recycling.
Its Vision is:
Target-reduction of waste dumped at the landfills in a phased manner
To create assets for the public from waste – ranging from energy to public greening
Visual cleanliness in the city
Reduce-reuse-recover-recycle-rethink
The Model is based on the four important aspects of Municipal Solid Waste Management:
Availability of appropriate infrastructure (equipment & technology)
Availability of competent and motivated manpower
Availability of appropriate funds to run the above two resourcefully
Efficient Management and Operations by professionally trained official
Hence, this PPPP Model as proposed by NAGAR requires appropriate responsibility sharing and profit sharing among the people, public and the private components. It has to be a win-win situation for all to be motivated and keep the consistency of the project.
As an off-shoot of this Model, NAGAR conducted a ward-wise survey on the status of Solid Waste Management by visiting SWM Department of every ward of the Municipal Corporation of Greater Mumbai (MCGM). The research team chalked out a comprehensive plan based on local needs and conditions. NAGAR's goal is – a) phased target-reduction of waste dumped at landfills and b) creation of public assets from waste i.e. energy, public greening or other productive uses.
Solid Waste Management and Handling at the Ward Level in Greater Mumbai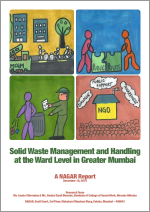 This report was done by Ms. Eesha Chirmuley and Ms. Snehal Sunil Bhosale, students of College of Social Work, Nirmala Niketan who did their internship with NAGAR. The suggestions & recommendations mentioned in this report are their personal views.